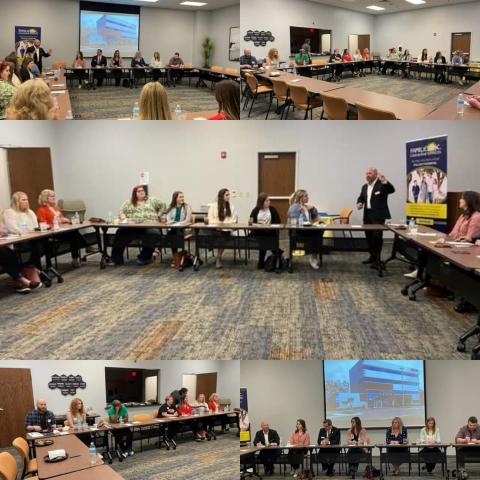 On Tuesday night (4/19), we hosted a Meet and Greet with soon-to-be new graduates from the Arkansas State University's Counseling Program. Our topic was "Setting You Up For Success." We celebrated each student's hard work and gave them an opportunity to ask questions from our panel. Each panel member also provided each graduate an important tip for them to use as they pursue their forever career. We discussed a variety of topics that included company culture, benefits, being ready, burnout, and much more. 
Our panel included CEO Mark Thurman, QA Officer and LCSW Amy Baker, Director Human Resources Bobby Long, HR Coordinator DeShawnna DeFord, Director of Clinical Operations and LPC Haley Thomas, School-based Supervisor and LPC Karrah Seitz, and LAC Theo Gaul. 
Thank you to ASU Assistant Professor of Counseling Dr. Stephanie Gotay and all the new graduates that attended. Thank you to our panel. Also, a special thanks to Director or Marketing Dawn Layer and Director of Business Operations Bob Puckett for your help with this event. 
Thursday night, we will host another meet and greet that  will be for soon-to-be social work graduates. We are looking forward to another successful night and celebrating YOU!